Surgery for Cataract Patients with Glaucoma
Hydrus MicroStent, iStent, iStent Inject, GATT, Goniotomy, and Ab Interno Canaloplasty have revolutionized the management of cataract patients with mild to moderate glaucoma. The FDA has approved these techniques for the treatment of mild to moderate glaucoma at the time of cataract extraction.
We now perform Hydrus exclusively in appropriate cases of cataract with mild to moderate glaucoma. Our clinical results, in more than 200 procedures, are superior to those achieved with the other modalities. Our statistics match the three year peer-reviewed literature (Horizon Study) in which 80% of single drop glaucoma patients could safely stop their pressure lowering drops following Cat/Hydrus. More importantly, this landmark study showed a significant reduction in significant glaucoma progression (versus non-MIGS patients) thereby reducing the need for secondary invasive glaucoma surgery following three years of clinical observation.
First in the Pennsylvania, New Jersey, Delaware & Maryland to Perform The Hydrus Procedure
Dr. Lewis is the first in the area to perform this glaucoma surgery.
---
The procedure required to implant the Hydrus® Microstent is designed to be quick, less invasive, and performed in conjunction with cataract surgery. Doctors can now, using the unique delivery system, implant a Hydrus Microstent through the very small incisions needed for cataract surgery. No additional incisions are necessary (unlike many of the more traditional surgical procedures used to treat glaucoma). This significantly less invasive approach is called "ab-interno", and may lead to fewer complications and faster healing times than traditional glaucoma surgery. Following cataract surgery, the Hydrus Microstent is inserted into the outflow canal of your eye, called "Schlemm's canal." Normally, you will not be able to see or feel the tiny device in place following your procedure.
---
Hydrus Implantation Animation
---
---
iStent:
Creates a permanent opening in your trabecular meshwork
Improves your eye's natural fluid outflow to safely lower IOP
Works continuously to improve the outflow of fluid from your eyes
Improves outflow with a single bypass
---
Glaucoma Introduction
Glaucoma Description
How Fluid Circulates in the Eye
Glaucoma Cause
Glaucoma Risk
Ocular Hypertension
Open-Angle Glaucoma
Narrow- Angle Glaucoma
---
Nearly one out of six patients of cataract age have some form of glaucoma. Sometimes this has not been diagnosed because glaucoma is a silent condition.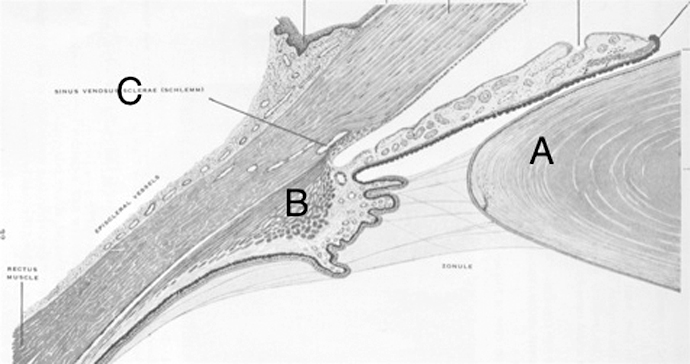 The region marked A is the cataract. Excess pressure causing glaucoma is produced at B. Their proximity help explain why cataracts and glaucoma frequently co-exist. Schlemm's canal is the exit route for excess aqueous humor C and is the focus of the Aquaflow procedure.
In addition to helping cataracts patients with glaucoma, Dr. Lewis is also experienced in treating cataract patients suffering from astigmatism and dry eye. Dr. Lewis is one of the more experienced cataracts surgeons in the United States, and he has been recognized as a foremost cataract and MIGS provider.
---
Ultrasonic Pachymeter
Selective Laser Trabeculoplasty on location
Minimal Invasive Non-Penetrating Deep Sclerectomy
Ahmed and Molteno Tube Shunts